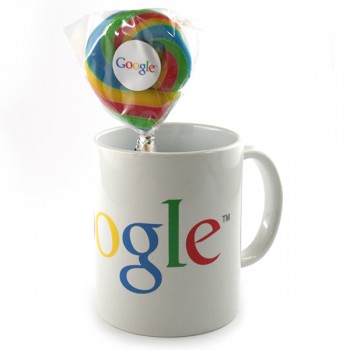 Goal: Google was having a reshuffling of office space and wanted to welcome their team to their new workstations. As it's disruptive to move to a new work space, they wanted to create a fun gift for them to use and feel loved.
Our Custom Corporate Gifts Consultant suggested this mug as the colour is inviting and warm, the lollipop was custom made in Google colours and soft paper was inserted to create a party mood. Naturally, a mug is always a useful item in any office, so it hit the mark as being a fun, memorable and usable branded gift.
According to the Google purchaser, the thoughtful gift was totally well received! Despite Googlers having to move, the Google estate management team managed to soften the emotions well with this simple, thoughtful and Colorful gift. It lifted the emotions of the team and made them laugh and joke during the move.